Built on Farm Traditions
Hunter Implement Supply is an Independent Manufacturers Representative company established in 2007. We represent quality Agricultural Manufacturers working with a diverse dealer network throughout Western Canada.
Murray has worked in the Farm Equipment business for over 35 years right from Parts, Sales, Trucking, R&D, and wholegoods management.
Starting as a parts guy at a dealership in Delisle, SK taught Murray a great set of core values. The customers, staff and owners taught him many aspects of the business from the ground up.
Later, moving to Saskatoon and into the sales division, it was dealing with the accountability part of the transaction with the producers. Looking at everything from a different perspective brought different issues to light.
Altogether, it brought home the traditions learned on the family farm. Value the equipment that held up and was serviceable by the farmers. Now Murray looks for that in every piece of equipment he sells. Well thought out, well made and reasonably priced are the benchmarks he looks for when sourcing a new manufacturer.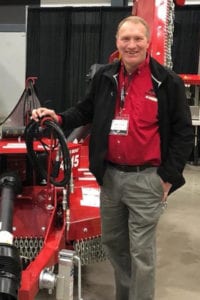 Bush Hog Skid Steer Rotary Mower
Bush Hog BCSS attachements are made tough to handle the brush lines on your property. Made with 1/4 inch steel deck and long lasting high performance blades. There is fresh stock on the ground at many of the Western Canadian Bush Hog dealers! These are proven to be a real tough reliable mower. So if you're in the market for skid steer rotary mower cutter, contact us today!


Mandako STORM
The Heaviest Vertical tillage unit on the market!
Verticial Tillage Tool and High-Speed Disc all in one package. Size and incorporate feild residue effectively. Patented hydraulic angle adjust from 0-14 degrees. This way you can adjust to varying field conditions as you see fit. Manage ruts with authority. Never compromise on the performance with the Mandako Storm!


Mandako 5 Plex Land Roller
Canadian made and the Heaviest Land Roller on the market!
SEEDING-Rolling the field pre-plant creates an even seedbed for today's high-precision planters and air seeders. Consistent depth control is now a reality. Land rollers create better germination with optimal soil-to-seed contact for cereals and pulses. Pulse crop growers consistently find a 1-4 bushel per acre yield  increase on rolled fields. 
SPRAYING-Reduce the wear a nd tear on your sprayer and other equipment with smoother fields. 
HARVESTING-Keep sickle bar knives and guards from premature wear by keeping them out of the dirt.  Avoid time-consuming and expensive repairs to your combine by keeping rocks out. Harvesting lodged crops becomes easier (and less stressful) knowing the field was rolled after planting. 
TILLAGE- Using a Land roller on corn stalks after harvest crushes the stalks enabling them to decompose faster. Reduce the chance of causing damage to your tires or tracks by flattening the stalks.
HAY/FORAGE-Using a Land roller in the spring can smooth out your field and help level rodent mounds.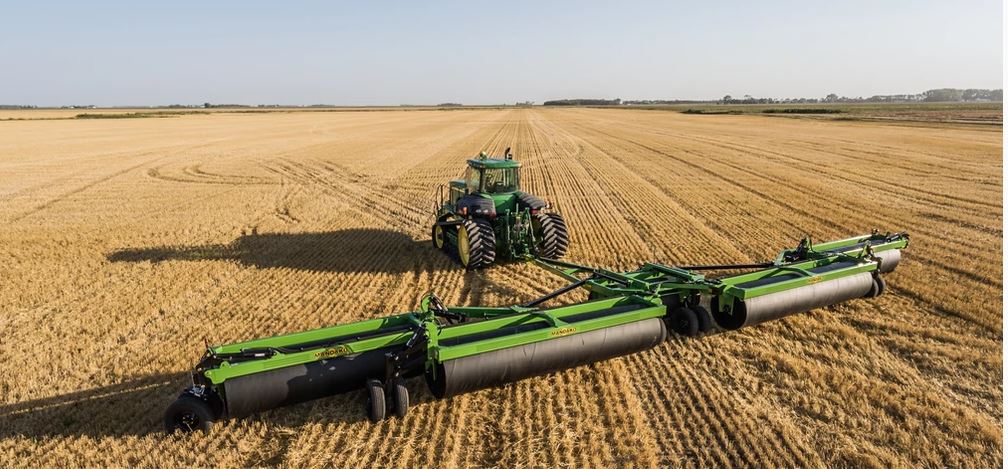 Mandako Heavy Harrow - Field Sergeant
The Mandako Field Sergeant Heavy Harrow is a game changer!
This is a Western Canandian built heavy harrow with many features that you would expect in today's heavy harrow. Gone are the days of cables and inconvient folding systems. You can apply down pressure like no other harrow ever before. It's design and manufacturing team have decades of expereince. This implement is a collaboration with Pillar Ag and Mandako.
Some of the features you would expect are the hydraulic rear pivoting wheels, which aid greatly in folding and unfolding.
-Another feature is the hydraulic tine angle adjust. You can change the angle on the fly! A proven, over centre beam to increase or decrease down pressure on the harrow gangs is simple and easy.
-Five row tine harrow feature a 9/16 x 26 inch tines which the optional carbide tip in 9/16 x 26 inch tines.
-The frame design is not only heavy, but well thought out and will last many years with no trouble.
Initial dealer orders have been strong throughout Western Canada and we encourage you to discuss with your local Mandako dealer your Heavy Harrow needs.